When people starts talking behind your back, never mind them because it proves that they are obsess to make a story about you. Just remember they are the reason why you should consider yourself famous.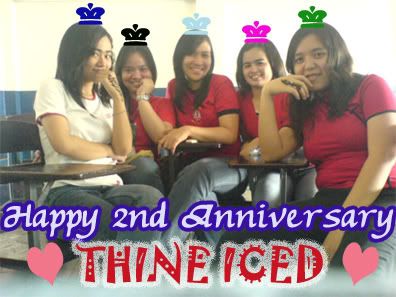 Today, Thine Iced is celebrating our
Second Anniversary
. Its been two years since this friendship started and I am so grateful because until now, we're still intact though we don't have any communication to the other two original members. But still, I am happy because my friendship with
Dyei
,
Eunice
,
Joanne
and
Kath
are still strong. We're two years and still counting. And I do believe that this friendship is meant to last longer than forever.
I Love You girls!
Though we were planning to have a gimmick to celebrate our 2 years, we decided not to push it through since we are loaded with lots of school stuffs to finish. Just like now, we are still thinking of how we can get through this effin' activity on our SQA class. We are like stupid thinking for the right thing to do in exchange of an exemption in our third quiz. Geez! This activity will surely make me crazy like hell. But I am still hoping that before tomorrow comes, all these things are already finalize because I still need to review for my quiz in VB and recitation in Lit. Oh yeah, Letran is punishing me. hehe =]
Finally, I grabbed a copy of the special edition of
Chalk Magazine
featuring the players of the UAAP and NCAA. I am really crazy with
Simon Atkins
of DLSU that's why I bought this month's special issue. Actually, before I was not used to buying magazines featuring players though I used to buy Candy, Seventeen and Pink but because I have this huge crush on Simon, I forced my mom to accompany me at SM San Lazaro to buy a copy of it. I know how students are anxious of having this copy too since I heard that it is out of stocks in most newsstands.
Our first stop was the National Book Store. I was really looking for it but sadly, it is out of stocks. I actually found one but it is some sort of sample only because it has no plastic and almost all the pages are already creased. When we went out of the store, I was like a child who lost her toy. haha :P So, my mom and I really walked around SM just to find a copy of it and thank God, I was able to buy one. Actually, it is the last copy already that's why I didn't hold back.
I so love this issue.
Simon Atkins is LOVE
. He is super duper attractive and good looking. How I wish I could see him in person. He is so adorable and lovable. After being crazy with former Letranite, Boyet Bautista, here I am, being absurdly fonded with DLSU's Simon Atkins. haha :P They are both point guards and plays the ball well but Simon is waaaaaaaaaaaaaaaaay good looking than Boyet because Boyet isn't that good looking, he is just a good player.