Just a few days before my birthday, I received a news which I don't know if I will consider a good or bad one. I have received an email that I'm already deployed and will be starting after the weekends. To be honest, I don't want to be deployed yet because I'm still happy with my new found friends in the training room. Hi Batch 8! I want to let you know that you are the best batch ever and we have the best COBOL instructors. Beat that! :) However, God gave me that kind of blessings, perhaps, to save me from the very bloody case studies of HSP. But no, I am not happy to where I am right now. I miss Batch 8 big time and I've been missing all the fun for how many days now. But I hope, I'll get used to this kind of set-up eventually.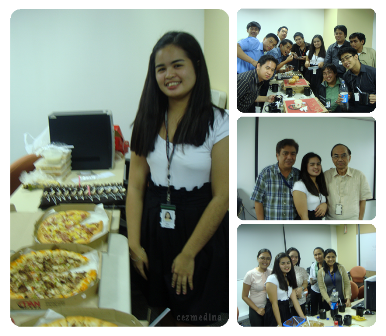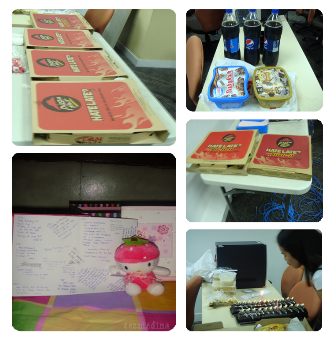 Anyway, I had one of the most memorable birthday celebrations I've ever had. Thank you so much to my instructors and to the rest of Batch 8 for a one of a kind party. I never expected for something like that. You surprised me big time. To let you know, they were more excited that I was that day. Actually, a couple of days before my special day, they were continuously greeting me and asking me as to what will I prepare on the 8th. I really had plans of treating them since it was my first time to celebrate my birthday at work and thank God, it was a whole lot of fun.
The entire day, I was in the other building for work and they were in the training room for, well, training. I was so busy reading CBTs and chatting with some of them. I was so touched because a lot of them, if not all, greeted me already even if we haven't seen each other that day yet. During lunchtime, we dropped by the training room and I was so happy to see them all. We prepared for the so-called party to be held at 6pm.
When 6pm came, I went back to the training room and I was so surprised that everything was all set. The pizzas and ice cream were there and everyone was so excited and ecstatic as I entered the room. But what surprised me was the fact that I had two cakes courtesy of one of my instructors. The two half gallons of ice cream was, by the way, courtesy of my other instructor. I didn't expect that.
So we pigged out and everyone was having a good time. We all had fun and honestly, I was so happy to celebrate it with them. It was truly one of a kind. Another surprise was given to me before we went home as the boys handed me a pink box with a card and a cute hello kitty plushy which they got from a crane machine with full effort. They got that on their 13th token and really, that's really an A for effort. :)
Thank you God for allowing me to celebrate my birthday that way. I didn't expect for something like that. You have Your own ways of surprising me and You never fail me every time. Thank you, God and Mama Mary. Happy Birthday, Mama Mary! :) It is truly amazing to have the same birthday as Mama Mary.