i just came back from a
four-day trip to CEBU
a while ago. i can say na i really enjoyed the trip. let's reminisce the experiences my family and i had in
CEBU
and
BOHOL
.
DAY 1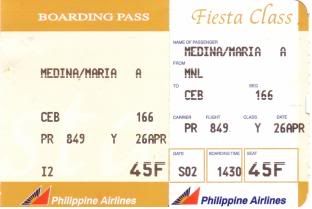 this is my ticket
at around 1:30 pm, we left our house to the
CENTENNIAL AIRPORT
. hinatid kami ni
DADDY CARLO
dun. we were so lucky talaga xe naman, may available seats agad for us. =D we then headed to the
MABUHAY LOUNGE
.
VIP
kami. [sosyal!!!] hehe. =p xe not all has the chance na makapunta dun. may merienda dun na para lang talaga sa mga
VIPs
. by 3:00pm, umalis na ung plane going to
CEBU
. and by 4:15pm, we arrived there. we waited for a while until we saw
KUYA BENJO
. xa ung talagang susundo sa amin. we rode a cab then a bus going to
DALAGAUETE
. it was really a long drive. mga 2 hours ata un. tas, we arrived na sa destination namin. well, ganda naman nung house 'n may aircon. haha. =D
DAY 2

we woke up early xe pupunta kami ng
BOHOL
. =D we rode a
pump boat
papuntang
BOHOL
. nice experience, sobra. =D actually, it was my first time to ride a water transportation like that kaya sobra akong natuwa. after nun, we rode a trycicle, then a jeepney. but actually, di xa jeep eh xe di ata uso dun un eh. bihira lang ako makakita ng ganun. parang mini L300 van. nakarating kami ng
LOBOC
.
LOBOC RIVER CRUISE
~ its a eatery there. but the cute thing about that is while you're eating, they will cruise you along the LOBOC RIVER. though expensive, but still, we enjoyed it. yummy pa ng mga foods tas ganda ng view. =D
TARSIER
~ the smallest monkey in the world which is found in LOBOC. =D ang cute nya, sobra. i have a pic wherein the tarsier was placed in the palm of my hand. hehe. =D
MUSEO DE LOBOC
~ old museum. found there were musical instruments and costumes by the LOBOC CHOIR and saints.
CHOCOLATE HILLS
~ the BEST!!! ganda talaga. =D tas, ang lakas pa nung wind. sarap tumambay dun. haha. =D ang ganda tingnan kaya lang, top view nga lang. di pwede lapitan.
this is the ticket sa chocolate hills.

after that, we went to
PANGLAO
, sa
BOHOL
din un. we got stranded there actually. =/tagal namin dun. supposedly xe, we will ride a pump boat to an island but since gabi na nun, natakot kami kaya di na kami tumuloy. good thing, ang babaet ng mga tao dun kaya they helped us to look for trycicle going to
TAGBILARAN CITY
. =D
VEST PENSION HOUSE
~ ung pension house na tinuluyan namin for one night sa
TAGBILARAN
.
DAY 3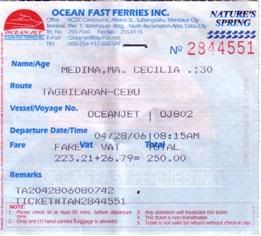 this is the ticket for oceanjet, a water transportation there, somewhat like a plane.

we woke up early again para maabutan namin ung boat na sasakyan namin going to
CEBU
. =D we took our breakfast na lang there sa boat.
MAGELLAN'S CROSS
~ isa sa mga favorite puntahan ng mga tourists.
BASILICA DE SANTO NIÑO
~ most famous church [ata] sa CEBU. daming tao that time, may mass xe eh. =D
we went to
LAPU-LAPU CITY
with the use of a
PERRY BOAT
. we visited a church there and a resort name
HADSAN
. after that, we bought pasalubong na and went home.
DAY 4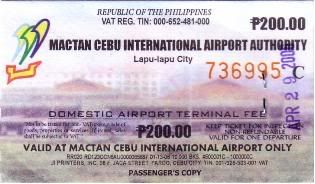 ang araw ng aming pag-alis. =/ though sad for i will be missing all of them, eh happy na din ako for a wonderful experience with all of them. umalis ung plane ng 12nn and arrived at 1:20pm. =D ang cute nung
KOREAN
na nakasabay namin. haha. =D
*kilig*

ACKNOWLEDGMENT

PAL
~ for the free tickets
TITO JOHN
~ for fixing our tickets nung nasa airport kami
TITA BERLY
~ for letting us used their house in
CEBU

TITA SUSAN
~ for accompanying us kahit nasa manila xa
KUYA BENJO
~ for being our tour guide. =D ang baet nya, sobra. i can't forget him. super duper nice. di nya talaga kami pinabayaan
ATE MERLYN
~ for serving us. for the foods she cooked and washing our clothes. baet nya din and super nice
KUYA CITO
~ for the advices [???]
KUYA ERNIE
~ for accompanying us to
TAGBILARAN
. he was a big help talaga
MANG FELIPE
~ for letting us use the trycicle. =D kahit malayo.
BAKESHOP BOYS
~ for helping us in searching for a trycicle to use to the city
and everyone there. ang babaet ng mga tao dun. ala akong masabi. they were very helpful and trustworthy. =D they were so nice. =p
for pics, just visit my picturetrail account:
ZECUTE