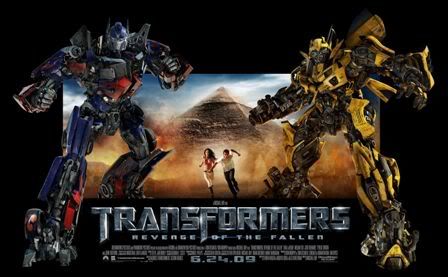 I had fun last night, super! When the buzz about the sequel of the Transformers has come out months ago, I promised to myself that I would watch that film in the movie house no matter what. It's not only about Shia and Megan but also about BUMBLEBEE! :) I got more excited when the trailer of Transformers II: Revenge of the Fallen has come out all over the internet and even on television.
That's why, when a friend invited me to watch the movie, I said yes right away. And yes, we were only three last night who watched it but we had a whole lot of fun. We did enjoy the movie.
I went to Caloocan first to drop off the kids - Camille and Cha. I stayed there for a couple of hours waiting for their parents to arrive. Afterwhich, Daddy Cesar walked me to the bus stop, where I could ride a bus going to SM North Edsa. By the way, we watched at Trinoma.
Kam and Ian were already there, falling in line to buy tickets for the three of us. I went all the way up to the Cinemas and bewildered with the huge crowd. The lines were really long and I couldn't see my companions. They were all buying tickets for the movie Transformers. It was really jampacked. I quite expected that though but not that huge.
We ate first since the scheduled time was at 10:30pm. It was my first time to watch a movie in a movie house that late. We had no choice but to grab it. The seats in the earlier time were all occupied already and if there were unoccupied seats, it was located on different areas. It was dinnertime so even the food chains were full of people. We went to the foodcourt and just waited for a table to be vacated. We were just chit-chatting and laughing around.
It was around 10pm when we decided to go directly up the cinemas. We were just checking out some
coming soon
movies like Harry Potter, New Moon, Up and many more. When we entered the cinema, it was close to being full already. Good thing, Kam chose a good place.
Two thumbs up! The movie was really great and I predict that there would be Transformers III. I can't wait for that. Megan Foxx is super hot and Shia too. Bumblebee is really cute plus I thought Optimus Prime would die. Good thing, he didn't. The effects were superb. Comedy plus action-packed film directed by Michael Bay. Job well done.
The movie ended at around 1pm. Kam was fetched by a friend while me and Ian took a cab. It was so tiring but absolutely fun.
"I rise, you fall
."
- Optimus Prime
"Give me your face."
- Optimus Prime