Usually, the thing that you've been looking for is actually just right in front of you. You just don't realize it.
I've been out of the blogging world for quite a while. The main reason was our Microsoft Certification Exam we took last Thursday. We had a three-day review in preparation for the exam. I already expected that only few will attend because of what happened last year where the review was really useless.
Anyway, day one happened last 10/21 which was a Monday. Joanne and I talked about it already that we will go to school early. So there, we arrived at around 8am which was supposed to be the beginning of the review session. But unfortunately, it didn't start on time. We just waited in one area there together with Niko, Ian and Marco though the three arrived late. The review session started at around 9:30am. At first, we were all concentrated and we were really listening to what our reviewer was trying to discuss and teach us. He was, by they way, Sir Dexter Dar. He was so nice. At the middle of the session, we felt the boredom already. Ian and Marco, as usual, made fun of me so I wasn't able to listen. They were harassing me. Hahaha :)
It was only a half-day review. Joanne and I were supposed to join the boys in visiting Rex in his house because he was leaving the day after. But Joanne suddenly changed her mind and instead, she wanted to join Cha, Jhen, Rey and Kelvin. As for me, I had no choice but to come with Joanne because I will be the only girl in case I join the boys. It was hard to decide because Rex is really nice to me and I bet, he was also expecting me to be there. But what can I do? Good thing, he was able to understand me.
MCP Review: Day One
The second day of the review was just like the first day. Only few attended and from the Chillax Crew, only I, Joanne and Rey attended. The boys drunk last night. We didn't listen that much, though. Instead, we were busy chit-chatting and playing PSP. By the way, Rex flew already to US for his two-week vacation. After the review, we decided to drop by SM Manila to kill the time then met Niko and Gian there. We sang at Popstar then walked and strolled until we decided to go home.
We didn't attend the third day of the review because it was our Enrollment. Joanne and I decided to go there early because from our experiences before, we expected a lot of students falling in line and doing the same thing as ours. As I arrived there, I was stupefied with the long line. I saw Niko with Ryan but because, there were a lot of people behind them, I decided not to cut the line (at that moment). After Joanne arrived, we decided to fall in line. It was really hot there and our sweats were all over. Niko and Marco then called us telling us that there were three vacant seats there. We had no choice but to cut. Until we realized, we were in front and about to pay for the processing fee. I won't detail what happened next. All I know was that the entire process was indeed tiring and energy consuming but fun.
We just waited for our friends to finish and decided to have our lunch at SM Manila. We killed our time at Worlds of Fun where Ian and Marco spent a lot of money. We were there till 6pm without thinking that the MCP exam will be on the next day.
The Crew's Teriyaki Trip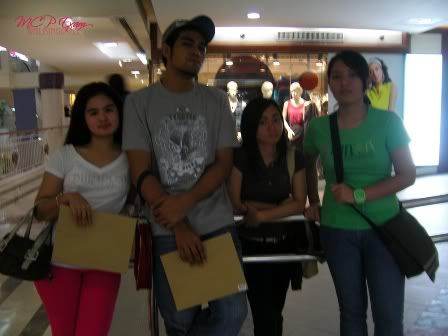 Cez, Niko, Joanne and Kath. Ian was the photographer.
The day has finally come for us third year and fourth year IT students with MCSE and MCDBA specializations. I went to MISNET in Makati with Joanne and Niko. As we arrived, we saw Cha, Marco, Kelvin, Gian and Rey who were about to take the exams. We suddenly felt the nervousness because we knew that after them, it will be our turn. We sat at the waiting area trying to calm ourselves - laughing and making fun of each other. Then the lady called Niko, meaning Joanne and I were left in the table. After 30 minutes, the lady called my name and from then on, my heart didn't stop from beating fast. I took the exam in the room where Niko was taking his. He finished first and he passed. I passed also, thank God for that. Two down and there's five more to go. Most of us passed the exams and I'm so thankful to God for that. It was really a blessing.

After the exam, we went to Glorietta to eat and stroll. But since most of us were sleepy because of lack of sleep, Niko, Joanne, Ian and I decided to go home while the rest was still there. I am so happy with the achievement that we have received and I do praise God for that. He answered our prayers. Dyei, Paul and Julius passed their certification exams also at DBWizards yesterday. No need for a second shot because we made it the first time we took it. Thanks for those who prayed. It really means a lot to us.

I might go to school tomorrow to get the transcript and the recommendation letter for our On the Job Training. I passed my resume to some companies and hopefully, I will be able to get responses from them this week. Please do pray that I will be able to do well in the interview and for my acceptance, of course. I badly need this one. Thanks in advance!

A lot has happened to my family these past few weeks and I can say that it wasn't the way I wanted it to be. But I cannot stop it from happening. Problems started to arise and I don't know what to do. My mind cannot stop from thinking what and where to start. Hopefully, everything will be fine.