You know what's sweet? It's when you're sad, then he smiles at you and suddenly, you feel fine.
Before anything else, the quote above, it is really true. Well, in my case, it is. Whenever I feel bad, his smile is something I look forward to feel better. Hope he feels the same way. Oh yeah! Enough of this.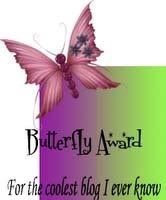 Once accepting this award, the rules are as follow:
1. Put the logo on your blog.
2. Add a link to the person who awarded you.
3. Nominate 10 other blogs.
4. Add links to those blogs on yours.
5. Leave a message for your nominees on their blogs.
This award was actually given by
Jam
Thanks a bunch, girl. :) This award is really cool.
Here's my Ten Coolest Blogs ever:
Aya
Bea
Dyei
Finella
Khitee
Kuya Roy
Lissy
Nicely
Unjeh
Victoria
Today is another pretty boring day, not so, I must say. Our grades our out and I've seen it already except for Theo. I passed and that's all I can say for now. I am so much satisfied with my grades. No complains at all. It's good, as in. Together with the release of grades is the release of how much our tuition fee for this coming semester would be. I was absolutely stupefied when a friend texted me and informed me that our tuition fee is 55 thousand. Who would have thought that our tuition fee is that big thinking that we are on our last semester and we only need to take 15 units? Oh come on, I really don't know what comprises that big amount but I'm pretty sure we have again sets of MOCs. I don't know where in this world my dad could get such huge amount. I'm expecting of a 40k but more than 50k, I didn't saw it coming.
We are now trying look for companies on which we can undergo on the job training. Unfortunately, Letran will not provide companies for us instead we are the ones who'll look for it. I have companies in mind, so hopefully, we'll be accepted there. But it will not be easy, believe me because even though it's just an OJT, we would still undergo test and interview and our acceptance is not guaranteed. Wish us luck. This is yet another nervous and new experience for us as we start to enter the corporate world. I'm excited but the nerves are still present.
Aside from that, I was able to exchange messages with my friends whom I missed a lot via text. We were actually finalizing tomorrow's plan. Hopefully, it will push through. I couldn't back out though because I insisted the plan. Yeah, I was the one who gave them the idea so the boys are truly excited while the girls, all of them are unsure except for me, of course. I knew it, I will be the muse for tomorrow's getaway. What will I do? It was me who started it and backing out is something that I can't do or else the boys will get mad at me. But I'm excited. I'm so bored here in the house and can't think of a productive thing to do. I wanna go out and unwind with friends.
I'm hoping and wishing with fingers crossed that our tomorrow's plan will push through. And I also pray that my girl friends would also join us.