You know you really love someone when you don't hate them from breaking your heart.
I really had a blast yesterday, as in. The day turned out to be more than what I expected it to be. Our plan started out last Tuesday when Rex asked a favor from me. I said yes for that favor and he joked me that he'll just treat me to return the favor. I joked on him that he should treat me to a movie. I didn't expect that he was that serious because that same day, he made a plan for Thursday which was yesterday. I texted the girls about the plan and he texted the boys. I received replies but most of the girls weren't sure if they can make it or not and the boys weren't replying as well. Only few did.
We just waited till Wednesday came and we were like thinking if the plan should push through or not because only five were sure then. I was quite sad because it was me who insisted it and they didn't even bother trying to join or what. Wednesday night, I was busy texting my friends who will come with me the next day. They were asking me if the plan should continue knowing that we were only few. I told them yes. So what if we were just five. It's their lost not ours. At least, we'll enjoy. It was all set.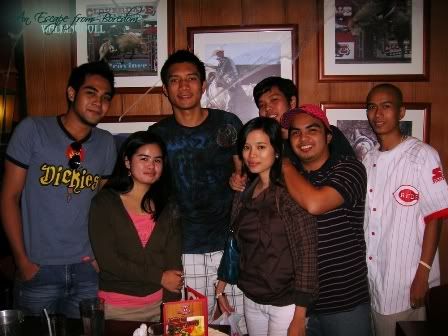 Yesterday morning, Niko texted that he'll come with us. That means, we were 6 - Cez, Rex, Lai(Rex's gf), Ian, Niko and Marco. I was too excited then so were they. I was supposed to leave the house at 2pm but because of the heavy rain, I left at 2.30 in the afternoon. I met up with Marco at Abad Santos Station then we rode an LRT again going to Monumento. We went to 7-11 to meet up with Niko. Then Ian came next.
We decided to leave by riding a bus going to MRT-North Ave. where we will meet Rex and Lai. It was jampacked. It was only a 20-minute ride from there to Ortigas. We walked a little while until we reached The Podium. We watched Max Payne there. I didn't like the plot but the fighting scenes and the effects were truly amazing. Mark Wahlberg did a great job in the film. After an hour and 40 minutes, we decided to stroll. By the way, the theater there is so cool. I might watch there again. But too bad, it's kinda far from Tondo.
We went out the mall to walk and find a restaurant where we could have our dinner. We were joking and laughing while we were walking. Of course, we had picture-taking. That is one thing that should not be forgotten. We were kinda undecided where to eat but we settled with Texas Roadhouse Grill at El Pueblo. It was fun there. It really took us a long time choosing from the set of foods because of one reason, they are so expensive. We still ate there, though. Super duper thanks to Rex for the treat! :) The foods were yummy and great that's why the money we paid for it was so
sulit
. Heavy.
We were joking and laughing that time when a tall man entered the restaurant. From the time he entered, I knew it was James Yap. Yeah, we saw James Yap there. At first, Niko didn't recognize him and he didn't want to believe that it was James. He thought we were kidding but we weren't. Before we go, we had 2 sets of pictures with James. From then, we can't get over with what happened. He is nice, by the way.
We walked again from El Pueblo to Shangri-La Plaza and decided to play at Quantum. Lots and lots of fun memories there. The mall was closing so we left. We walked again until we reached Starbucks. We stayed there for an hour and have some coffee. After that, we decided to go home. I arrived at 11:30pm. Thanks friends for that super kaduper fun Thursday!
Our Great Escape from Boredom
It was truly fun being with your friends. I'm so happy because my mom now allows me to go out with friends and go home late at night. I will surely miss this kind of moment once we enter the corporate world. That's why we need to seize and savor every moment we have with each other. I'm so much blessed for having them. Too bad for those who didn't come because they missed out a lot. I hope the next time we plan for another getaway, the entire troop will be able to come with us so that it will be more enjoying. I want another of this. Hahaha :)