Speak when you are angry and you will make the best speech you'll ever regret. ~Laurence J. Peter
I was almost late on my first class but good thing, I wasn't. I was just too unlucky this morning because traffic suddenly occurred on my way to Letran. Nothing much happened on my first two subjects.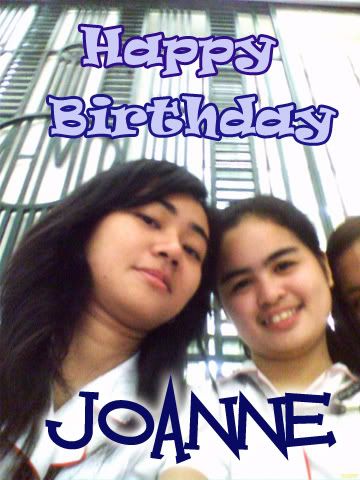 Today is
Joanne's 19th Birthday
and we gave her a present, of course. We actually talked about it just this morning and I haven't seen how the gift looks like but I asked the celebrator to take a picture of it so I could see it. I know, for sure that it is cute. She's already nineteen but still looks like younger than her age. Good for her, ayt?
I thought this day would end without me seeing
him
but I was wrong. It would be a big fulfillment for me if this day ends the way I want it to end but unfortunately, it didn't. Though I just had a glimpse of him but still I saw him. Surely, tomorrow I'm gonna be seeing him because we are classmates in all four subjects.
Please bear with me if I couldn't update or post that much for the mere fact that I am very much busy with school. Our professors been punishing us by giving us deadly school works and lots of quizzes. Plus our midterms is just two weeks away and I really need to prepare for it. Everything should be set aside including the preparations for my Debut when midterms week comes. I just hope that after midterms, I could have the rest I want. I just want to be free from pressures and stresses for just a couple of days.