Sometimes, you just have to accept the fact that some people are going to stay in your heart forever even if you aren't in theirs.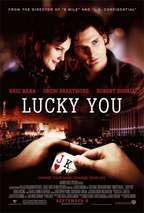 I woke up this morning thinking of those school works that I need to accomplish. However, I ended up watching a DVD. haha =] Fine, I watched Lucky You starring Eric Bana, Drew Barrymore and Robert Duvall. This film is in connection with the well-known gamble, Poker but the story is really about father-son relationship. Try watching it and you will surely like it. Even though you don't know how to play poker, you could still understand what the story is trying to tell us.
Finally, I am done with my quiz in SolArchi but I don't know if my answers are right or if I did the right thing. I just read the module regarding it and I did it the way I understand what I've read. But hopefully, I've done the right thing. We still haven't made the seatwork in that same subject. I haven't read the pages that Dyei texted to me because I just came from the church that time and I am not in the mood for anything related to school. Perhaps, after this, I could read it.
Just today, I was able to see my
balikbayan
cousins, Celine and Claudine. They arrived from Abu Dhabi two days ago. They've been there for how many years but they've also lived here and study but for a short time only. They will be spending their vacation here until August 18, I supposed. The opening of classes there will be on September that's why they decided to come here. Too bad, they can't make it on my debut. Their mom will be here also on the 15th. I received
pasalubongs
from them and I so love those cute tees they gave me.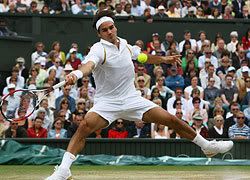 My favorite and the world's no. 1 Roger Federer just won again claiming his 52nd consecutive win on the grass court by overpowering Juan Carlos Ferrero in four sets. Good for Roger as he makes his way towards the Championship wherein he could possibly grab his 5th title in Wimbledon. Since Andy Roddick was defeated by Gasquet, he will be facing Roger in the Semifinals of the '07 Wimbledon. I'm still hoping for a Nadal-Federer match on the Finals.

Anyway, today is the opening of the UAAP. The Archers are now back in the game as they face the Fighting Maroons on their first game after their one-year suspension last year. I'm a DLSU fan ever since I've watched Mike Cortez play years ago. Until now, I'm still a fan of the archers at the same time, I'm also a fan of the Blue Eagles since Chris Tiu is still there. hehe =] I do love Chris Tiu of the Eagles and Simon Atkins of the Archers.