Life is totally fair, we just see it unfair because it's either we expected too much or we gave up already.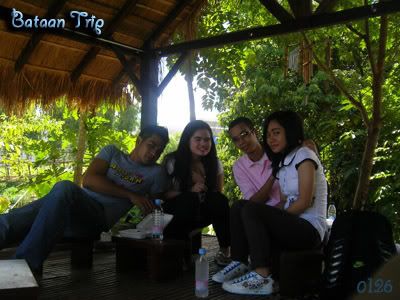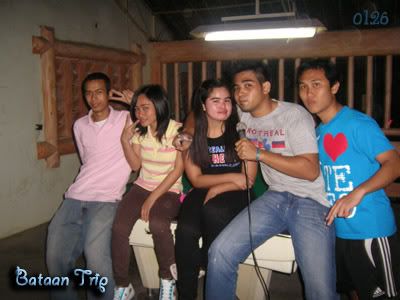 Our Bataan Trip pushed through yesterday. I woke up around 4:15am and hurriedly prepared because our calltime was at 5:30am. After I took a bath, I received a text message from Niko. We decided to meet at 7-11 near Letran. I fixed myself and prepared for the things that I was going to bring there.
Around 5:15am, I left the house. Daddy Carlo drove me towards Letran and then, I saw Niko waiting there. So I jumped out of the car and kissed Daddy Carlo goodbye. I bought hair clips because I lost mine then a glass of mineral water. We waited for Ian and Joanne to arrive. We already saw Chester. As soon as we were complete, we rode the bus not knowing that it was already full. My golly! I didn't expect that 60 students would join the trip including the students from 1st year to 3rd year. We had no choice but to sit in the center since all the seats on the side were occupied. One student was such a gentleman for giving up his place so that Joanne and I could sit there. While Niko and Ian sat in the center aisle. Niko was beside me and behind him was Ian.
It was quite a long trip from Manila to Bataan, 3 hours, I guess. When we reached the place, everyone was so excited. Letran-Abucay was so huge, 3 times bigger than Letran-Manila. We went down the bus and started to roam around the campus. We assembled at their AVR together with the Letran-Abucay's IT students. There was a program. They had a Videoke Challenge and Quiz Bee. Then, groupings for the Amazing Race were given. Too bad, we belonged to different groups.
We had our lunch after. We stayed at the
kubo
near the Letran Dormitory. We were having second thoughts if we were gonna join the Amazing Race or not but ended up joining. It was real fun though. There were 8 groups consisting of 10 members. There were 15 stations and 14 challenges. All groups were entitled to finish all the challenges and receive a flag after completing. You can quit but you cannot pass a challenge.
The first challenge was "
Sino Ka Ba?
" wherein you have to memorize the names of your groupmates and tell it to the umpire. Once you finish it, you are free to choose what challenge to do next. After accomplishing the first challenge, we had the
Pinoy Henyo
, Piggy Back, Sack Race,
Araro
, Battlecups, Limbo rock,
Calamansi
Relay, Free Throw, Puzzle, Planting Rice,
Mathinik
, Shooting, Rubix,
Patawanin Mo
. We only had 14 flags because we gave up with the last challenge. We really find it hard to make the two judges laugh. It seemed that they are carrying all the problems in the world. Only three teams made them laugh. And I didn't know what they did. We had so much fun but it was really tiring.
After that, the boys played basketball. It was between the boys of Letran-Manila and Letran-Bataan. Joanne and I decided to change because we were feeling sticky. The heat of the sun was really smarting, swear. We headed to the Letran Dorm and fixed ourselves. Afterwhich, we roamed around Letran and had some picture taking. We stayed in the
kubo
for a little while and decided to go back.
After our visit at Letran-Bataan, we didn't go home right away. We went to a resort because some wanted to swim. The four of us (Niko, Ian, Joanne and I) decided to kill the time by playing billiards and having a videoke. It was cool there. We even saw a giant lizard. Hahahaha ;) Around 7pm when we decided to go home.
Imagine, the bus is a two-seated bus per side and yet, Joanne, Ian and I fitted there. It was a long ride and we slept. We had a stop over at Mega Station. That was where our professors bought our dinner - Jollibee. We ate while the bus was moving.
It was so much fun in the bus because everyone was having fun. The boys at the back (third years) were singing and joking. We were just laughing our ass out of them. They were cracking jokes and having fun. I got home at around 11pm. It was such a tiring day but it was superb. I didn't expect that I've got to enjoy it that much knowing that only six fourth year students joined. Enjoying, indeed. Till our next time.
Knights Encounter