It is better to wait for years for someone you are sure of than to grab that chance with someone who picks you up but drops you whenever he wants to.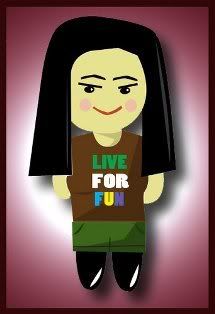 Just sharing this artwork made by a friend of mine. It was created using Photoshop. See how cute it is? If you still can't get what the image is trying to portray, oh well, it's me. She also has done cutie images of some of my friends. If you want to see it, just go and visit
Chillax Crew's Multiply
and just feel free to comment.
Just a bit of update. Our thesis is showing a lot of progress though we have experienced problems a couple of days ago. But we're still doing fine. The deadline for Chapters 1-5 is this week and we haven't started the 4th chapter because the survey isn't complete yet. Just wish us luck. Everyone is experiencing the same problem so we don't need to worry that much. But we really have to work our ass off just to accomplish this and be able to pass it on Saturday.
Finally, we now have a keynote speaker for our seminar on the 27th of September. Hoping that we can learn a lot of things from her and may she will be able to awaken the minds of my fellow Senior IT students because they are capable of getting bored easily. We already received our budget and now, we can start the preparation. We are all hoping for a successful seminar. We are not actually hoping that our seminar would be the best, all we're asking is that we'll be able to pull this one off successfully.
Anyway, I haven't seen any of my grades and I'm kinda worried with my minors. But actually, I don't think that much about the midterm exams because I am more focus on the thesis. But hopefully, I have passing remarks in all of my subjects.
I missed Photoshop-ping. I'm wishing that I could find time doing all those stuffs that I'm really into. Its just that it is really hard now since we're dealing with a lot of school works. And by the way, Eraserheads Reunion Concert is set to kick this Saturday at Bonifacio Open Field. Tickets are available at
Ticketworld
. As much as I want to watch the concert, I really can't because I wasn't able to save money for it. Supposedly, it is a free concert but because of some conflicts and since one of the sponsors backed out (though it has been replaced right away), it isn't free anymore. How I wish I could be there but too bad for me.