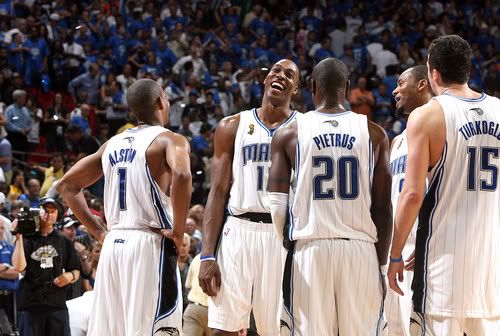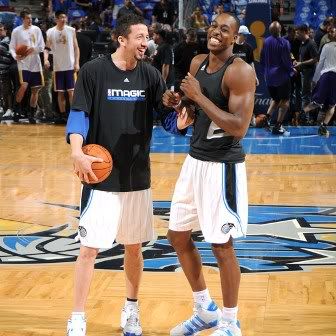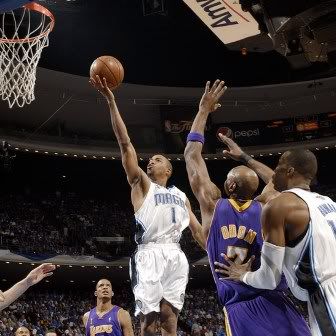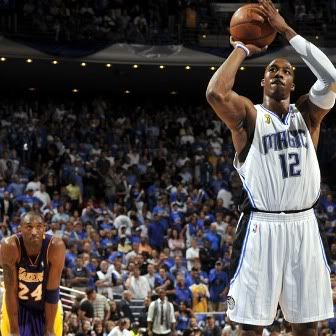 Finally, Orlando Magic came back with a vengeance. Howard, Turkoglu, Pietrus, Alston, Lewis, Lee and the rest of the Magic players and coaching staff came there to win and made a history. I was astonished and amazed with Howard's dunks and blocks, Turkoglu's plays and field goals, Pietrus' shots, Alston and Lewis' three-pointers and Lee's guarding style. It was a Rookie versus Veteran game because we all know,
experience wise
and
age wise
, Lakers has all the advantage. Admit it, dude! Lee did great by guarding the Lakers' main man, Kobe Bryant and preventing him from making good shots. Plus, Howard just blocked Kobe twice with Kobe making a good acting job on the second. But karma strikes as he missed his first free throw.
I am not expecting that Orland Magic will win it all after the playoff seasons because I know Lakers is really hard to beat in relation to championship experience and for being a veteran team in the major league. But then, all I want is for them to win all the remaining games in Orlando and give Lakers good games so they won't go home with the title easily. They should make it hard for them. But then again, if Orlando Magic will win this year's Finals, I would be very happy.
Celebrities were also present like Ludacris, Tiger Woods, Chris Brown and Omarion.
Hedo Turkoglu is Love! :)
Credits:
1
&&
2