One of the worst feeling in the world is to doubt someone who you thought was never unquestionable.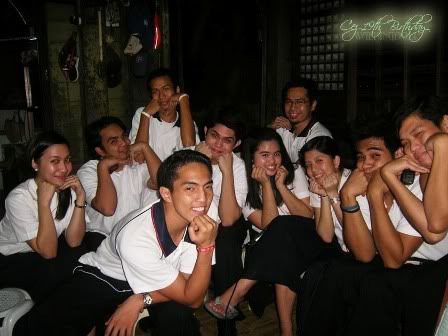 OMG! I really can't believe that I'm already 19 years old and that a year from now, I won't be a teenager anymore. How time flies. I still remember the stressful days when we were just preparing for my big event - my debut. But hey, its been a year since that memorable day and up to now, I still can't get over that big day. As I reached 19, I feel that I'm old already and few years from now, I'll be having my own family. Stop. I won't be thinking that way. I'm young and forever will be. Haha :D
Anyway, I slept early the day before my birthday which was yesterday, the same day Mama Mary was born. I woke up early yesterday to attend mass at 6am. As I opened my eyes, I was surprised to see bunch of text messages greeting me "Happy Birthday!" I was indeed touched and moved. I really can't believe that they would really greet me that early. As a matter of fact, two of the closest guys in my life were the first ones who greeted me. After the mass, I decided to sleep again.
As I woke up once more, I received several text messages coming from my friends and loved ones. It was really touching because they did remember my special day. Perhaps because Mama Mary and I have the same birthday. I went to school at 2pm but before that, I offered a cake for Mama Mary.
As I arrived at school, I saw Joanne with her new haircut. Pretty much. Then, my friends started to come one by one. It was good to see Kath early that day. I missed the old her. Anyway, I received a lot of greetings coming from my friends but later on, I told them to shut up because I don't want others to know that it was my birthday. We attended a mass that's why we didn't have a class in Theo. Then discussion in Polsci and another discussion during SQL and SAP though we were dismissed super early.
We stayed at school for an hour because of the heavy rain. We were stranded. Until we reached the LRT, we saw an immense number of people waiting for the train to arrive. Darn it! Then we all went directly to my house for a mini celebration. It was indeed fun. Though it wasn't as grand as my 18th birthday, still, it was a memory to be treasured. even it rained really hard, they still went to our house to celebrate my birthday with me.
I'm just so thankful for having friends like them. They've been really wonderful ever since and I won't let them be taken away from me. We will be forever friends no matter what happen. I was so happy because I know they also enjoyed. Aside from spaghetti, asado, chiken, pinsit and leche flan, I also ordered 4 boxes of pizzas and 2 baskets of mojos as requested by them.
I want to thank everyone who texted me, who messaged and commented in Friendster, who called me on the phone and those who personally greeted me. I also want to thank Marco for the candy machine he has given me, Rex for the cute Hello Kitty spoon and fork and of course, Ian for the pink Hello Kitty keychain. It is really heartwarming that people really appreciate who I really am. Actually, I'm not asking for gifts. What I really want is to remember one of the most significant days in my life. But hey, Ian, Rex and Marco really spent money just to give me presents and I'm really touched. Thanks a bunch! :)
For pictures, visit my
Multiply
.