There are a lot of people who call you by your name. But there is only one person who can make it sounds so special.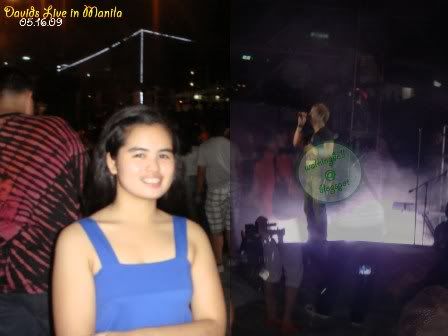 Yes, indeed. I was able to watch the much awaited concert of the year - Davids Live in Manila. It was really the concert that I have been waiting for a long time. I really can't afford to miss the opportunity of seeing David Cook in person and hear him sing live. I have been wanting for this event to come and yeah, it did happen.
I really have no plans of buying any ticket at all because I know Kuya Ome, my cousin, would be there as part of the security. Just so you know, he is also part of the security of some famous bars in the country namely Embassy, Prince of Jaipur, Ascend, Temple Bar and such. When I first heard of the concert, I immediately asked my mom to text Kuya Ome regarding the concert 'cause I really know he will be there and I'm so right.
I have been a David Cook fan since day one of American Idol and I am really impressed about his performances every week until he was named as the American Idol. I have downloaded all the songs included in his first and second-slash-major album. Aside from having that beautiful face, I also love his cool smile which mesmerizes me everytime I look at him on TV or Internet. His smile is really captivating.
If only I knew he had a mall tour in SM North Edsa, I might have a picture of him with me. Kuya Ome told me that some of his bouncer friends were there as part of the security and he could let me have a picture of DC. Oh! I just missed a great opportunity.
Yesterday morning, I was like undecided if I'll be going to Mall of Asia to watch or not. The reason was because Kuya Ome still didn't know by that time if he could let us in. I've been reflecting and thinking that if I will go there and he couldn't let us in, it will be a big disappointment for me but if I will not go and yet there will be sure spots for us, I will surely miss a lot. My mom called my cousin telling him that I will not come anymore but he said that we should because he will do his best for us to be able to watch the concert. Yeah, we went there and I was truly excited.
I went there with Ej and Jasper. We arrived at around 6:30 and we went directly to the backstage as instructed by my cousin. We, three, were super excited to see the two Davids perform on the stage. We may haven't had the seats but standing there for quite a long time was indeed worth it. We watched first the fireworks display. Ate Meryll arrived followed by his brother.
At around 8:30 when the concert started. David Archuleta performed first and everyone was screaming at the top of their lungs. He was cool. He did great. I never thought that he performs better during live than on TV. He was smiling all the time. He sang songs from his album.
After DA, we waited for a couple of minutes because they were fixing the stage for DC. We watched first a 15-minute fireworks display as part of the event. And then, the next part started. The intro of The World I Know was played with David Cook rising up from below. I hope you can picture out what I am talking about. Anyway, he nailed the first song so as to the rest of the songs he sang. He greeted everyone "
Magandang Gabi!
"
David Cook was really amazing, great, superb, terrific, one of a kind, unbelievable, excellent, outstanding, marvelous, tremendous, exceptional and in fact, words are not enough to describe how great he was that night. He showed that he is indeed the American Idol. I just can't help but smile to the fact that David Cook was really in front of me, singing and performing. It was really incredible. He rocked it. Everyone was hyper and screaming out loud.
Some of the Filipino words he said aside from
Magandang Gabi
were
Mabuhay
and
Salamat Po
. And it was funny because he also said "
Salamat Po so much
."
After the concert, we felt how tiresome it was. Our knees, legs and thighs were aching. I really can't believe that I watched their concert. I had an amazing night, as in. I hope David Cook will come back here and perform again. And if that day happens, I will surely buy the most expensive ticket just to watch him again perform live.
Pictures and videos will be uploaded in my
Multiply
. Just check it out.