There's nothing wrong in showing you care for someone, what's wrong is expecting him to do the same.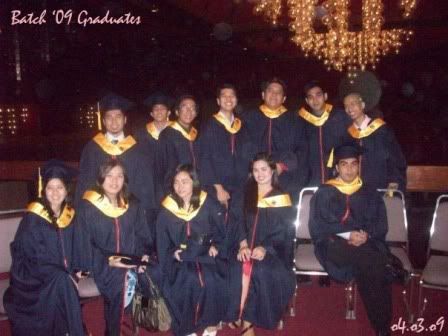 It was a dream come true for all of us. It was a momentous event that we will never forget. It was a gracious occasion that everyone celebrated. It was a moment of joy and sadness. It was the much awaited event in our lives, our Graduation Day.
After how many years of being cared and cradled by our dear Alma Mater, they finally let us go with all the values they instilled and knowledge we gained all throughout our stay in our beloved Colegio de San Juan de Letran.
We made it through. Our student life is over and bigger challenges now await us as we step towards the hardest stage of our lives and that is to face the real world. By this June, we are no longer students. We will not fall in several lines once the enrollment period started. We will not freak out about how long the process will go. We won't be meeting our professors. We will not take quizzes, midterm and final exams. There will be no semestral breaks and summer vacations. And the worst part, no more hangouts after school and the precious time with friends will be lessened.
As I entered the doors of PICC yesterday with my parents, I started to feel the excitement of the idea of me, marching the aisle of the reception hall of PICC , going up the stage and letting Fr. Lana transfer my tassel. But at the same time, sadness filled the entire me.
I saw my friends in the line as we prepared to march. The dream of ours to be able to finish our bachelor's degree in our chosen field has finally come true. And we knew how proud our parents were as they saw us going up the stage and being declared as official graduates of the Colegio. It was fun-filled. I was extremely overwhelmed.
After the ceremony, it was the time of picture taking with family and friends. Our smiles were not as big as you could imagine because the thought of parting ways just kept on popping out. I didn't cry but I was lonely. I don't want to put an end to one of the most wonderful stages of my life but I have to, we have to.
We parted ways as we started to leave PICC one by one. We still exchanged text messages and I let them know that our friendship doesn't end there. It will still continue, alive and kicking no matter what. We may seldom see each other but what we have started four years ago will always be there despite the time and distance. I already insisted of a monthly lunch or dinner with the crew and I hope it will push through. We may not be complete but the idea of seeing your friends once in a while is such a good feeling. I will truly miss them, our laughing trip,
tambay
moments in every part of Intramuros, our
kulitan
, hangouts and our what-to-do-next moments.
My
F4
(Ian, Niko, Rex and Marco), thanks for everything. I learned a lot from you. I never thought that we will be this close. You're the best people ever. I won't search for another F4. Thanks for treating me so special all the time.
Marco
, thanks for all the good times. It will forever be cherished.
Rex
, thanks for being my super friend. You've done a lot and I truly appreciated everything. All the things I received from you will be kept forever. Don't forget about me. I know you'll stay in US for quite a while. Be back, ok?
Niko
, thank you for being one of the best people I have crossed paths with. You are truly amazing and I'm always thankful for having you as a great friend. And
Ian
, thanks for always being there for me, for all the care and support, and for all the joy you continue to bring. I may not be that expressive, I hope you know that you are very special to me. Whatever we have now is something that I will treasure until my last breath.
Thine Iced
(Kath, Joanne, Dyei and Eunice), my sisters, thank you for everything.
Kath
, thanks for being a good friend. We may not be that close, I know in our hearts we're sisters. Take care of your baby. I'm always here for you.
Joanne
, thanks for sharing your college life with me. We've come so far and we made it all through.
Dyei
, thanks for being my best friend for eight years now. It has been tough for us but still our friendship remains.
Eunice
, you are truly amazing and I am thankful to God for sending someone like you to me. I will forever be your friend.
And for the rest of the
Chillax Crew
(Cha, Jhen, Gian, JL, Kel, Rey, Paul and Juls), thank you for making my college life even more memorable and unforgettable. It is truly the best stage of my student life. Whatever we have shared from the time we met will always be valued. I hope to cross paths with you too soon. We have a lot to share, ok? Despite the time and distance, I know we will make it through.
Our student life maybe over but our friendship is still there. As we grow old, it will also grow and mature and it will not be forgotten. I know it will stand the tests of time. I will miss you [always]. I love you. :)