In the face of true love, you don't just give up, even if the object of your affection is begging you to. ~Chuck Bass, Gossip Girl
During the weekend, including Friday since I don't have classes during Friday, I'm still busy doing school stuffs. Well, not really, since I managed to watch a number of movies. It has been a hobby ever since I discovered underground websites where I can download movies without any costs at all. Though it will take you hours and it really needs a fast internet connection. What I always do is to divide my downloading time since I'm also busy with school. Whenever I need to accomplish something and I badly need an internet connection, I won't download and just continue the next day. It is a matter of time management. It's pretty awesome.
Also, that same day, my mom and I bonded together in a salon. Just like what a mother-daughter always do to relax and pamper themselves. We had hair spa together and it was tons of fun. A moment with my mom is something that I'm really looking forward too since we are always busy. I'm busy with school and she's busy taking care of my cousins. I'm planning of another mom-daughter bonding, perhaps, a massage this time.
I love the fact that our thesis is going well. The letter has been approved by the committee though there are some comments on the paper. We are trying to give our best and exert a lot of effort this time because we don't want to get another Major revision verdict or worst, a Total Revision verdict. Actually, our main goal is get a No Revision verdict on the Final Defense but I know it is quite impossible to happen. But I'm still wishing that we''ll be able to achieve our goal since the defense is scheduled few days before my birthday. And I really want to celebrate and be happy on my special day. And one of the best birthday gifts I could receive would be a passing remark on our Final Defense.
July 14, 2005 was the day Thine Iced was born and made into existence.
Dyei
,
Eunice
, Joanne, Kath, Arianne and Dyan have become my best friends ever since I stepped into college though we seldom see Arianne and Dyan for the past years. Thine Iced is actually the very first all-girls group I've been into and I can say that they are the best girls in the entire world. I consider myself lucky and fortunate enough because I have crossed paths with these genuinely beautiful (inside and out) and kind-hearted individuals. Those moments I have with them are surely memories to cherish forever. In this chapter of my life, they are the lead characters. They have brought out the real me. And I'm so grateful because they stayed with me all throughout. They have seen me at my worst and yet, they never leave my side.
And tomorrow, we will be celebrating our three years together and I'm very happy because we've made it this far. And I'm pretty sure that this friendship will continue to grow and nourish until the end of time. I don't know what will I do without them. Oh well, one of the reasons why I'm happy being single (though some of them already have their significant other) is because I have them by my side. I'm one of the youngest in the group yet they have guided me to the right path. They will forever be part of my life. Happy 3rd Anniversary girlfriends! You know how much I love and cherish you.
Oh well, another busy day tomorrow. I know I have to ready myself once again. I used to get a headache whenever I think of those school works that we need to accomplish. And something is really bothering me.
[EDIT]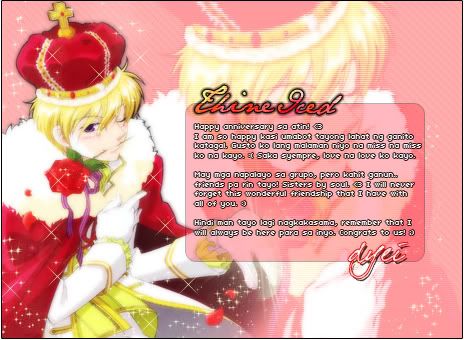 Dyei's Anniversary gift. Cute, indeed. Thanks so much 'tol. Love you.
[/EDIT]