If he's dumb enough to walk away. I'll be smart enough to let him go.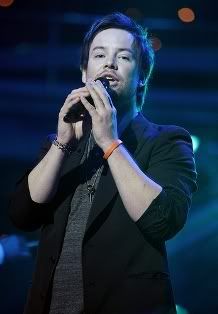 I am just in the mood for blogging. Ask me why, come on. I'm just so very happy when I heard Ryan Seacrest said this line: "and the American Idol is David... COOK" I jumped with joy and with a smile in my face, not just me, but with a cousin of mine who has been rooting for David Cook from the very beginning of the competition. The scruffy rocker of the season just did it. He deserves the title more than anyone else in the competition. It was unexpected, but hey, he's the new American Idol.
Cook was the underdog since he received a lot of bashing statements from Simon Cowell during the Performance Night held just last night. He did pick the right songs and gave justice to those songs. He even did an amazing job. All the songs that he had picked showcased the different sides of him and yet, Simon didn't appreciate it. After all, Simon praised the young kid from Utah, David Archuleta, and even said that Archuleta knocked Cook off. So, I wasn't really expecting that my bet would win the talent search. I really do believe that it was Cook who did a fantastic job last night and not Archuleta. And it hurts big time that it wasn't appreciated by Cowell.
From the very moment I watched and heard David Cook's version of Always Be My Baby, I became a big fan of him and until now. He did a great job with the song Mariah has written. I have watched all his performances and I must say, he just keeps on improving every week making Randy Jackson confessed that since day one, he's a David Cook fan. He showed his unique and extraordinary singing prowess week by week. He always gives his best shot, showing his different sides and characters. His versatility is absolutely amazing which makes me love him even more.
But, on the other hand, I still admire David Archuleta's singing skills. At his very young age, he showed off his great talent to over millions of people throughout the world. He can pull it off but too bad, all he can sing are just ballads. When I heard his version of With You, I just can't help but laugh. I know he did his best but it wasn't enough. Those kinds of song don't go well with his very smooth and endearing voice.
Before the winner has been announced by Seacrest, I really didn't expect that Simon Cowell would apologize to Cook for saying harsh words about his performances last night. He also said that Cook didn't deserve that and it just made the crowd screamed a lot more. I saw how nervous Cook was before the announcement. I guess, he was more nervous than the other David.
After Seacrest announced that David Cook is the new American Idol, he was really emotional. It was the second time I saw those liquid crystals flowing from his eyes down to his cheeks. His eyes were filled with tears, tears of joys. His mom and brother came up to stage to hug him. His brother was actually the one who auditioned but unfortunately, he wasn't accepted. Andrew Cook has been the key to David Cook's triumph.
It was a very surprising landslide because everyone was expecting that it would be Archuleta who will emerge as the newest and supposed to be the youngest American Idol but too bad for him. Cook has beaten him with a margin of 12 million votes having the percentage of 56% and 44% for Cook and Archuleta, respectively. I must say that this is the best yet American Idol Finale in the top-rated talent search history.
And now, I'm predicting that David Cook will make it big to the music industry. He would be, so far, the most successful American Idol. After Kelly Clarkson, Carrie Underwood and Chris Daughtry, no one else make it. I'm wishing David Cook the best of luck as he starts his journey towards the fulfillment of his dream.