What makes us foolish? It's when it hurts seeing the one you love with somebody yet you keep on staring.
Love Month begins today. How I wish I have someone to celebrate Valentine's Day with but unfortunately, I don't have. But I know there's nothing to be sad for since I have a lot of friends out there who are willing to be my dates on that special day. Maybe, we'll just have a group date. But I guess I will be busy on that day because of my thesis.
Anyway, the plan pushed through and it went well. I was with Jeff and Ryan since Ian has an out of town trip today. The person whom we were supposed to talk to was not around so, we just talked to the other person and he asked us to leave the Chapters 1 and 2 there. He just took my landline number, in case. By the way, I saw a friend there. Her name is Lacewan. The last time I saw her was on my debut so it was really a long time. I missed her. She was alone in the library studying something. Her course is BS Nursing. She is such an intelligent and pretty lady just like me. Haha :D
After that, we decided to go home. I was planning of dropping by SM San Lazaro but I didn't pursue it. I just went home directly. When I arrived, Cha told me that a package was sent to me and from then, I guessed that it is the Welcome Kit that I have been waiting for how many months now. And I wasn't wrong. The proof that I have passed 70-290 and that I'm a Microsoft Certified Professional has arrived. Included in that package are the certificate and the MCP ID. I gladly took the package and opened it right away. I can't believe it. It's been how many months since I took the exams and finally, the ID and certificate are now in my hands.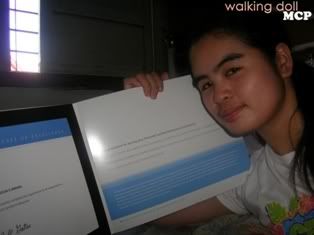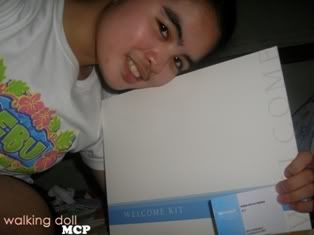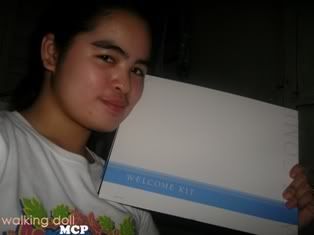 This afternoon, I called the URC head as instructed by Ian since the person texted him to call back. And because Ian was very busy in Bataan today, I called back. I was not able to meet him when we went there because he was not around that's why he told me that if ever we will be going there again, we'll make sure that it's in the afternoon so we could surely meet him personally. Okay, there are some problems regarding the thesis because the content of the letter is somehow far from our real purpose. I knew it. The first time I read the letter, I knew that we will be encountering problems with it. He also told me to pass the 3rd Chapter next week and the survey questionnaires. And we have to personally meet him next week because we have lots of things to talk about. But he is very nice. As a matter of fact, he is so concern that we might cram in doing Chapter 3 and so, we have to ask our professor about the format and all. I'm just crossing my fingers that once we meet him next week, everything will be settled down. I hope they will really allow us to enhance the network of their internet laboratory.
*fingers crossed*
Well, tomorrow, I'm gonna start revising the 2nd Chapter and do some school stuffs. School works are all piled up and it continues to grow. Hate it!
P.S.
Can you please pray for the immediate recovery of Tito Lando? He is a family friend. He had a mild stroke just recently and until now, he's confined in the hospital. Your prayer means a lot to us. Thanks!