Never say goodbye if you still want to try. Never give up if you still feel you can go on. Never say you don't love a person anymore if you can't let go.
Yesterday, I was out the whole day. Since the presentation of Chapters 1-3 of our thesis was cancelled last Tuesday, it was re-scheduled yesterday morning. So, I went to the Colegio earlier, as in. I left the house at 8:00am and arrived at around 8:30am because our presentation was scheduled at 8:30am. I saw the group who will be presenting before us and they haven't presented their thesis. Meaning, the time of presentation will be moved. I texted my thesismates on where they were. They were not late but if we followed the real time, they were super late.
It was successful, I might say. Our professor just corrected some mistakes and gave us tons of advices for the upcoming defense. I'm not ready yet. I haven't prepared and motivated myself regarding that thing. I'm afraid that we might screw up. But hopefully, we won't. Just pray for us, guys.
After the presentation, I decided not to go home since we will be watching Exalt at 7pm at the Letran grounds. I went to the library to chat with none other than,
Eunice
. She's the student assistant in the library. Good thing, there were no people there when I came that's why I was able to talk to her and update each other about what's happening. We seldom talk because we have different schedules. Her duty was until 12nn so after the Angelus, we went down and watched the Chillax boys played Basketball.
We took our lunch in the cafeteria right in front of Letran and went back to the school. We stayed at the stonebench and of course, never-ending
kulitan
and
tawanan
. We talked about a lot of things, as well. We had picture-taking courtesy of Cha's cam and my cam. We did lots of weird and funny poses. Talking about being a camwhore. Chillax Crew = Camwhores. We even had pictures with a former professor and some friends.
Then, we fetched Kam at her crib in Blumentritt since Rex brought his car. I was with Rex, Niko, Gian, Ian and Cha. After that, we went back to the school and looked for chairs so we could vividly see the performers. Exalt is a dance concert by the three Dance Systems in Letran namely Letran Streetbeat, Letran Jazz Endanza and Letran Squires Dance Troupe organized by the Cultural Affairs.
It was really a fantastic night. The theme was of course, Streetdance so all the music played were all hip-hop. Dance groups from different schools such as La Salle, UP-Diliman, Letran-Calamba, St. Scholastica and Mapua also came to perform and show off their great dancing prowess. Too bad, three schools backed out such as UA&P, Ateneo and San Beda. And the most special guest of all was the Philippine AllStars who won the title in World Hip-Hop Championship 2006.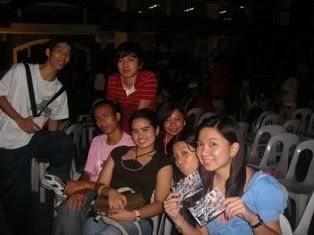 They showed off their amazing and breath-taking moves and styles. It was indeed a fun night. Knowing me, I'm attracted to guys with a good dancing skill. Dice is love. He is a member of Streetbeat. I first saw him during the Arriba Fest and from then, I used to look for him in school but unfortunately, I can't see him. haha :D But last night, he really showed off his talent in dancing. My gawd, words are not enough to describe how great he was.

After the show, we all went home. It was not as tiresome as the Arriba Fest. I did enjoy and I'm hoping to see more of them in the future.