The hardest part in being loved by someone is the uncertainty that it may stop anytime.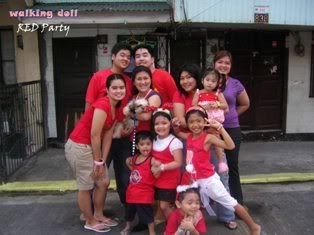 Welcome year 2008!!!
Happy New Year everyone! Another fruitful year has ended and another year has just begun. A lot has happened on me during the past year and I can barely recall everything. From the good things up to the bad ones, I can still recall all of them. Well, for me, it was really a great year.
Let's have a recap.
JANUARY
I had tons of school works. I can still remember that I was really cramming that time because school stuff were all piled up.
FEBRUARY
Our section in PE competed in the inter-section cheering competition. We didn't win yet we were the 1st runner up.
Our SAD thesis defense was cancelled and we were celebrating.
MARCH
We were still busy accomplishing lots of school works and preparing for the final exams.
There was no thesis defense in VB (machine problem).
The first ever outing of my blockmates. Chillax Crew was born.
APRIL
I have received my Windows Mobile from my dad.
I got hooked with Princess Hours. haha :D
My debut celebration was confirmed because we already paid for the downpayment.
MAY
Nationwide Election
I became the Reyna Elena for Sto. Niño's 24th year.
Ate Pheejay and Kuya Marc got married.
JUNE
The start of my junior life in college.
I have experienced the bloody adjustment of schedules.
Season 83 of the NCAA had started.
I've got to see for the first time Dex Quindoza in person.
JULY
Thine Iced celebrated our 2nd year of friendship.
The Letran Knights beat the San Beda Red Lions for the first time since season 82.
AUGUST
I have been very busy not just with school, but also, with the preparations for my debut party.
Something happened that tested the friendship of the Chillax Crew.
I realized that I'm already falling for him.
My dad came from Saudi for a vacation and for my debut party.
SEPTEMBER
A two-day recollection at Antipolo.
My much awaited moment has finally come.
Bonding moments with dad.
I decided to give up on him but I was not able to fulfill it.
Dyei's debut
OCTOBER
DLSU Green Archers had their sweetest comeback as they grabbed the championship crown on this season of UAAP.
Daddy Carlo ran for Kagawad in our barangay and he won.
We had our review for the MCP Examinations.
I realized how he hurt me and decided to give up on whatever feelings I have for him.
I failed my first take of the MCP Exams.
NOVEMBER
Kuya Karl had a two-week vacation here in the Philippines.
I became a certified professional as I passed the second shot of the MCP Exams.
I have given up on him already yet the feelings was still there.
DECEMBER
My first time to stroll around Trinoma.
Lots and lots of school stuff to accomplish.
I almost cried because of him.
I have accepted the fact that I'm still into him and that I haven't forgotten everything about him.
Partying, dancing and drinking during the IT Knights Out.
Rocking the Letran campus during the Arriba Fest.
All in all, I really had a very wonderful year though at some point in time, I felt bad and sad. Year 2007 was one of the best years in my life. I was able to do things that I haven't been doing yet in my 18 years of existence into this world. It was indeed a superb year for me.
I want to thank God for another year in my life, for letting me experience things that I haven't experienced in the past years and for the great people I have met along the way. I want to thank my family for their unfailing love and care. I want to thank my friends for sharing year 2007 with me and for the happy memories that we have all shared.
With that, I'm looking forward to a very delightful year ahead. Well, may this year bring a lot of fun memories and tons of happiness. May God still shower me and the great people around me a lot of blessings and still guide us all throughout. May year 2008 be another memorable year in our lives.