A "goodbye" can hurt but not as much an "I love you" that can't be proven.
I can now feel that Christmas is just a month away from now because of the over cold wind. Throughout this day, we were able to experience a very cold and rainy atmosphere. Many schools have been suspended because of the flood. But we were just unfortunate because the classes on the Tertiary level were not cut.
All my professors for this day were present that's why we were not able to eat because I don't have any break during Tuesday and Thursday. First subject was okay though I was late because I waited for Niko. I and my thesis groupmates are kinda problematic because it is really hard to think of a good topic for our thesis. We find it really difficult but hopefully we could think of a good thesis proposal.
I enjoyed my Comp108 class because we just did a freehand drawing using MS Paint. hehe :P We were like elementary students drawing our favorite cartoon characters. I drew Spongebob and Hello Kitty. I know my drawing was not that good but I am satisfied with it. It was cute, though.
Our supposed quiz on IT Elect was moved to Tuesday and we just had some discussion. It was really cold in our laboratory a while ago and good thing, I brought my jacket. I pity those who were not able to bring theirs because they were like frozen delights there.
By the way, last night, we had a dinner at Kamayan because Kuya Karl will be flying back to New York today. I did enjoy the night. There were lots of yummy foods to choose from.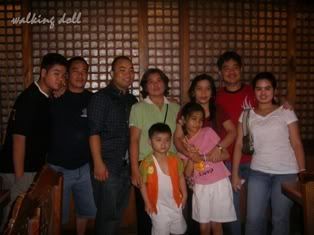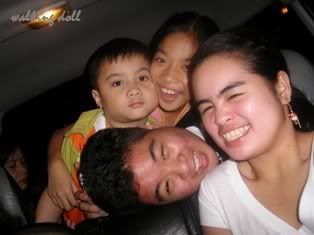 <