To wear your heart on your sleeve isn't a very good plan. You should wear it inside, where it functions best. ~Margaret Thatcher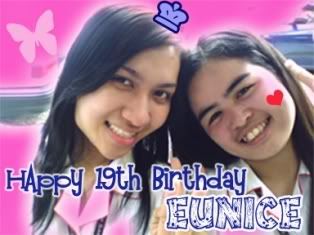 Today is
Eunice's 19th Birthday
. She is now a more mature lady but I know she is still child at heart. haha. =] It is her last year of being a teenager. hehe :P Well, she already watched the video I made and fortunately, she liked it. According to her, she watched it 3 times because she felt glad when she watched it the first time. I, on the other hand, felt glad also because she appreciated all the efforts we had exerted just for that video to be successful.
Anyway, it is time for a
Rematch!
Roger Federer
will be battling it out as he faces
Rafael Nadal
for the
Finals
of
Roland Garros
. Rafa is the two-time defending champ of the French Open and he is looking forward for his third. But I'm still rooting for Roger to win and if ever he wins on that said match, it will be his first ever Roland Garros title. I'm just hoping and praying for Roger to give his best shot on that match and beat Rafa. Rafa is indeed an awesome player and it will not be easy for Roger to beat him especially that they will be playing in the clay court where Rafa plays really well. But since I'm a big Roger fan, I hope he will get the title from Rafa.
*fingers-crossed*