Love isn't about being with someone now. Love is having someone and finding in that someone your forever.
The first two days of class were pretty much okay though I didn't enjoy it the way I enjoyed the first days of the previous semester and of the last school year. However, I was so happy to see my friends once again. It was something that I am most happy about. Seeing them after more or less three months made me wanna hug them oh-so tight. I really missed them so much.
I will surely miss
Dyei
and
Eunice
since from the very beginning they were the ones whom I used to go with. By this time, our paths are now different. We took different specializations and so, we are not classmates though Dyei and I are classmates on two subjects. But thanks to our vacant periods because with that, we could bond and chat a lot.
I have already met all my professors except on
Theology
. They seem so nice and not so strict but there is one whom I find snub. Well, he hates noise and once you speak even in low tone, he will speak up and say something that will embarrass you. I love my
Literature
prof. I guess, we will going to have a great time with her. She is cool and not boring. Everyone hates boring classes and hopefully, as soon as the lesson proper starts, we will neither get bored nor sleepy. Of course, I want to learn a lot and having a boring class will just make me sleepy which I really don't want to happen. I just wish that our Theo prof would not be as boring as my 1st year-2nd sem prof or as strict as our supposed to be prof during the 1st sem of our 1st year.
Anyhow, I promised myself that I would really study hard by now because this year would be more difficult than before. If possible, everyday, I will allot time for studying just to refresh my mind about the topics discussed and an advance reading for the next topic. I will be more active now and as much as possible, I will recite often. I will try to boost more confidence now and avoid being shy and quiet. I have so many promises and I do hope I could fulfill all of those.
By the way, I noticed that there are many freshmen this year compared to the last school year. I really don't know what they see in
Letran
and they chose to study there. hehe :P I'm just kidding. Actually, Letran has a very high tuition fee most especially in
BS IT
but I saw lots of freshies who enrolled and actually, most of them are
IT-slash-ACT
students. But then, I have nothing against them because I am too nice to bully those in lower years. haha :P They are very much welcome, as a matter of fact.
My brain cells are now going back to work. They are somehow ready for some actions after our professors gave us assignments and introduce us the projects that we will be making for this semester or should I say, for this term. Definitely, the pressures and stresses will be there again and add up to that is the cram. I know lots of students used to cram because instead of doing the project earlier than the deadline, they tend to do it a day or two days before the submission.
I really need to work hard this semester after knowing all the consequences that we might suffer if we fail a single major subject. But I will not be afraid because I know
God will always be with me, guiding me in whatever I and will do
.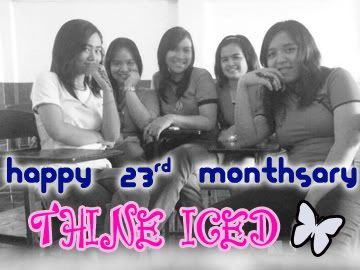 Just one month away and
Thine Iced
will be celebrating our
2nd Anniversary
and I can't wait. I am so happy for meeting such girls whom I know I really can turn on to and will never leave me no matter what happen. I am so thankful because our paths crossed and I am looking forward that this friendship will last long.