it was a
sh*tty morning
for me but this day ended up quite good. i left the house at around 9:45am and i reached
Divi
at around 10:00am. i was really glad coz i was early and i still have 30 minutes to drive from
Divi
to
Letran
. but my
gladness turned to
madness
because of that
d*mn traffic
there. the jeep i was into was stucked there for 20 minutes and that was so
terrible
. amf!!! i was really praying that time not to be late because time was running so fast. i really hate that traffic. i reached the
Colegio
5 minutes before the time. i hurriedly swiped my
ID
then, went upstairs. i was really in a hurry that time that i almost run. hehe =D i used the stairs near my room and the sad part there was, our room is located at the
4th Floor
and
going up was a hussle
. but i had no choice, no elevators eh. hehe =D when i reached my room and i took a glimpse on the window there if there was a professor and unfortunately, there was. but i was still lucky because the class wasn't started. no attendance and no prayers. and there were only few people there. yey!!! i was really worn out that i was really
gasping for air
. then, i started telling them what really happened.
anywei, we just had an experimient on our
Physics
class and i was kinda confound with the lesson. at first, i couldn't get it but as our prof explained it, finally, i got it. another discussion during the
SAD
class and we transferred room. he discussed the
Chapter 1
of our
Thesis
and my gosh, i think i couldn't finish it. haaay =/ the first chapter is
long enough
. haha =D but i'm still seeking for strength to be able for us to finish it. good thing,
Eunice
is my partner
. we just need to work hard for us to accomplish it. another discussion on our
VB
class but our professor was absent again but there was a sub. criticizing the
Jay-of-Cueshe-look-a-like
, i prefer the substitute prof last
Tuesday
than him. maybe because, she was just better. then, it was dismissal.
here are some of the pics with my girlfriends. want some pics? you can visit my
Multiply
site. it is
WALKINGDOLL.MULTIPLY.COM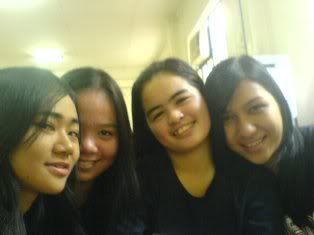 i really love these girls!!!

Tree of Life?! hehe =D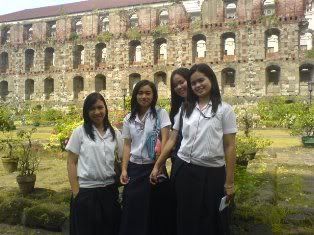 at San Agustin Museum