our section
IT2E
was assigned to sponsor a program in relation to the event we are celebrating this
AUGUST
which is
BUWAN NG WIKANG PAMABANSA
. we just had a 2-day preparation coz our
THEO
prof gave the task on us just two days ago and it was really hard. we were in-charge of everything, from the technical, to the program which includes the emcees and those who will speak in front and also with the registration and accomodation. the program was held today at the
QUEZON HALL
and our audiences were high school students. hehe. =D the sad part of it: we were all wearing
filipiniana costume
coz it was required. i can say that it was fun though hard because it was our first time and we really enjoyed what we were doing. we were already in the venue an hour before the program for preparations. we just laughed and laughed coz you know naman that my blockmates are born comedians. haha. =D they used to throw jokes that will make all of us laugh and that was the fun part. hehe. =D i just can't belive that the high school students, particularly first years were that naughty. gosh!!! i told them nga that it is better na collegiate students ung audiences namin instead of those freshmen. they teased us, actually. haha. =D they used to make fun at us but i was not embarassed. i just laughed at them coz they were funny. i just accept the fact that it was part of the program. hehe. =D the main part of the program was the watching part wherein we watched a documentary entitled
SIGLOFILIPINO: ODYSSEY OF THE NATION
written by
NICK JOAQUIN
. honestly, i really enjoyed it, i thought that i might get asleep during that part but luckily, i didn't coz the documentary was really interesting and very appealing.
here are pics taken after the program. class picture. haha. =D look at us, the girls were wearing filipiniana and the boys wore barong tagalog. [nice!!!]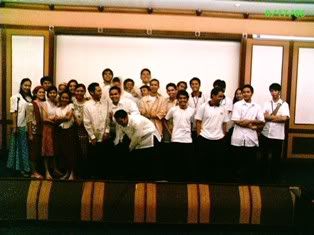 after the program, we took our lunch and we got ready for the next program [
again
] that we will be attending. by this time, we were just audiences. i also enjoyed it coz it was musical. i mean, it was about the FILIPINO
DANCES
that's why i find it very entertaining. after the program, we went home already.
anywei, i'll be very busy again. i need to accomplish these things:
* recitation in pe on saturday [
ALMA MATER HYMN
]
* chapter one of my term paper which will be presented on thursday
* report in histo on wednesday
i have a meeting tomorrow morning with the rest of the officers of
LITS
what's why i need to go to school early. then, we will be having a class on saturday to commemorate the memory of the former president
MANUEL QUEZON
. but the nice part is no classes on monday and also in tuesday. yehey!!! =D