kaninang morning.. kabwisit sa DIVI.. xe naman, ang putik.. hmmmf.. =/ buti na lang, di ako maxadong naputikan pero nakakabwisit pa din.. [ang dirty kaya nun!!!] kainis talaga.. buti na lang, madaling sumakay ng jeep.. ehe..
pag dating ko na scul, ginawa ko agad ung assignment sa STATS.. grabeee.. super duper dami.. [pasaway talaga si TORRES!!!] nywei,, good thing, he was absent kanina kaya no recitation at di rin pinass ung assignment.. ehe.. =D pinagawa lang kami ni MAM ARGUELLES ng seatwork [ata?!].. kami naman, todo kopyahan.. actually, na-confuse din ako sa pinagagagawa ko dun eh.. basta may answer lang, okei na.. ehe.. =P
wala din kaming THEO and ENGLISH xe nanuod kami ng LIEM DE MUSICALE sa SC AUDITORIUM.. i can say na job well done un for the TEATRISTA [org sa letran..] actually, mas maganda pa nga un compared to the play we've watched on POPE PIUS.. grabeee,, sa lighting pa lang, panalo na TEATRISTA noh?! at least, di nasayang ung 200php namin.. eh dun sa LIWANAG SA KARIMLAN.. parang nasayang lang ung pera namin eh..
kanina din, kinuha na namin ung ticket namin for the ARRIBA FEST and i'm really excited for that event.. xe first time kong um-attend nun eh.. tsaka they gave us also BINGO CARDS for the 20th.. [i ain't sure!!] grabeeee.. sobrang excited na talaga ako para sa arriba fest.. =P sana may mga bands din like dun sa PEP RALLY.. and hopefully, tumugtog sina JEQ.. [classmate coh!!] sana talaga.. =P
and bad news, may bago na naman nang-aaway sa amin.. they are another version of the GREMLINS.. i don't know bakit lagi nila kami inaaway to think na wala kaming ginagawa sa kanila.. hmmmf.. =P xe kanina while we were getting our arriba fest tickets, they making parinig to my friends in front of them.. si EUNICE nga eh sobrang asar and bad trip xe xa ung nasa harapan nung mga gremlins II.. feeling naman nila ang gaganda nila noh?! [di sila flawless actually..] epal talaga sila.. insecure lang sila sa amin.. hmmf.. =P
good news for me, ung LINZ FAMILY [team sa TAR8],, they won the race and the one million dollar cash prize.. at last and for the first time, nanalo din ung bet ko xe everytime na magbe-bet ako sa TAR lagi silang nage-end sa 2nd place.. buti naman ngaun, nanalo.. hehe.. =D i'm so happy talaga.. xe crush ko si NICK LINZ eh.. =D he's really gorgeous.. ang cute nya especially his dimples.. =D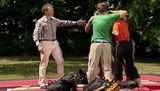 HAPPY 5TH MONTHSARY TO THINE ICED!!!
"thine iced will olweiz be thine iced: no more, no less"